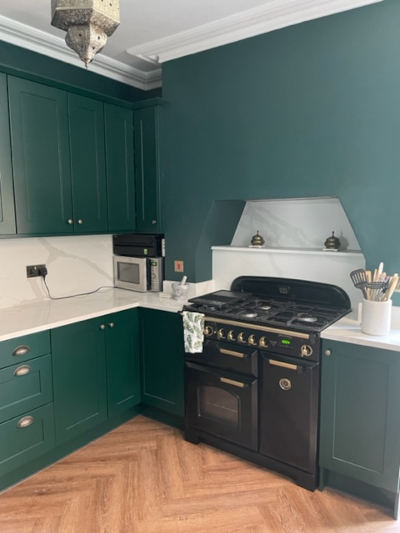 About Alpha Bedrooms & Kitchens
The company was established in 1998 to offer customers a comprehensive quality service in the design and manufacturing of high quality kitchens, bedrooms & home offices at affordable prices.
Using traditional to modern designs to suit any type of home, from design, manufacture and installation, nobody does it better than Alpha Bedrooms & Kitchens. All of our furniture is designed and custom made to suit your individual needs, ensuring that your room is totally unique.
Customer satisfaction is our number one priority, this has resulted in the fact that approximately 90% of our orders come from recommendations and repeat customers.
Why not visit our showroom based in Mossley, Lancashire to view a selection of bedrooms, kitchens and home offices as well as a range of colour samples and styles.

Thank you so much for the fitted bedroom furniture. We are absolutely delighted with it. We admired your efficient service and your professionalism. We will certainly be pleased to recommend you.

Joanne & Anthony

We appreciate very much your help and advice you have given to us. For years we have struggled to decide how to re-organise our kitchen. In two days you have transformed the kitchen into a more sensible and practical area with much more storage space.
It's brilliant! Cheers

Pauline & Harvey

To thank you for the exceptional service & work you have undertaken in fitting our new bedroom furniture! You have done a fantastic job from start to finish & we would have no hesitation in recommending your company.
With many thanks.

Rachel & Mark

Many thanks for a job well done. Best wishes.

Carole & George

Thanks for doing such a great job. We are absolutely delighted with our new kitchen, all it needs now is a good cook to use it! Good luck and best wishes.

Barbara & John

Alan and I would like to thank you for the excellent job you have done on our new kitchen. It has been transformed, it looks bigger and we are delighted. We would not hesitate to recommend you and we will see you when I need a
bedroom!

Christine & Alan

Thank you very, very much for our beautiful bedroom. We are really pleased with it, and the professional way that it was made and fitted, and the manner in which you all worked. The same applies for the other two jobs you did for us. We would like to wish you all the very best for the future.

Stan & Mavis

Just a quick note to say a very big 'thank-you' for the wonderful job that you and the lads have done for us on our daughter's bedroom. You have given us exactly what we wanted and needed to the extent that we now have a bedroom to be proud of. Our only wish is that we should have done it years ago! Please thank the lads on our behalf who worked so hard in the heat. Thanks again - we will be in touch soon regarding the next bedroom.

Robert & Kirsten

We are both delighted with the end result and are finding it hard to imagine what it was like previously. Just arranging the floor coverings this week and then we can get decorating, before being able to show it off to people.
Thanks for a great job.

Joe & Chris

We are so pleased with our bedroom units and how well everything was finished off. We'll recommend you anytime.

Lyn & Richard